Legally Addicted
Version 0.3 + Windows download
---
Hey folks!
Two months ago I made a test, releasing a first demo of Legally Addicted in WebGL.
At the same time I was selected for an indie games event competition in São Paulo, in the biggest Latin America games festival!!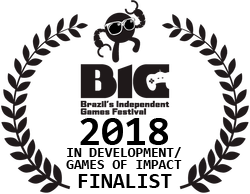 I got a huuuuge amount of feedback from the professionals I met, rewrote many parts of the game, and I present you the 3rd iteration! Version 0.3 is playable with menu, intro, tutorial floor, 2nd and 3rd floors. We now have a new UI, 3 different weapons, one enemy type, auto-aim, many different room styles, and increasing difficult. It's starting to look like a proper game, so I decided to also make a downloadable version! For now, only Windows 64-bit, but you can download it for free or make your price and help me speed up development!

Planned improvements include: more weapons, loot system, armors, traps, bosses and more intricate keys/doors systems.

Hope you have fun! And please leave your feedback on the page or my twitter @sensingames

Grande abraço
Ivan Motta
Files
Legally Addicted v0.3
44 MB
Jul 25, 2018
Legally Addicted v0.3 PC Download
81 MB
Jul 25, 2018